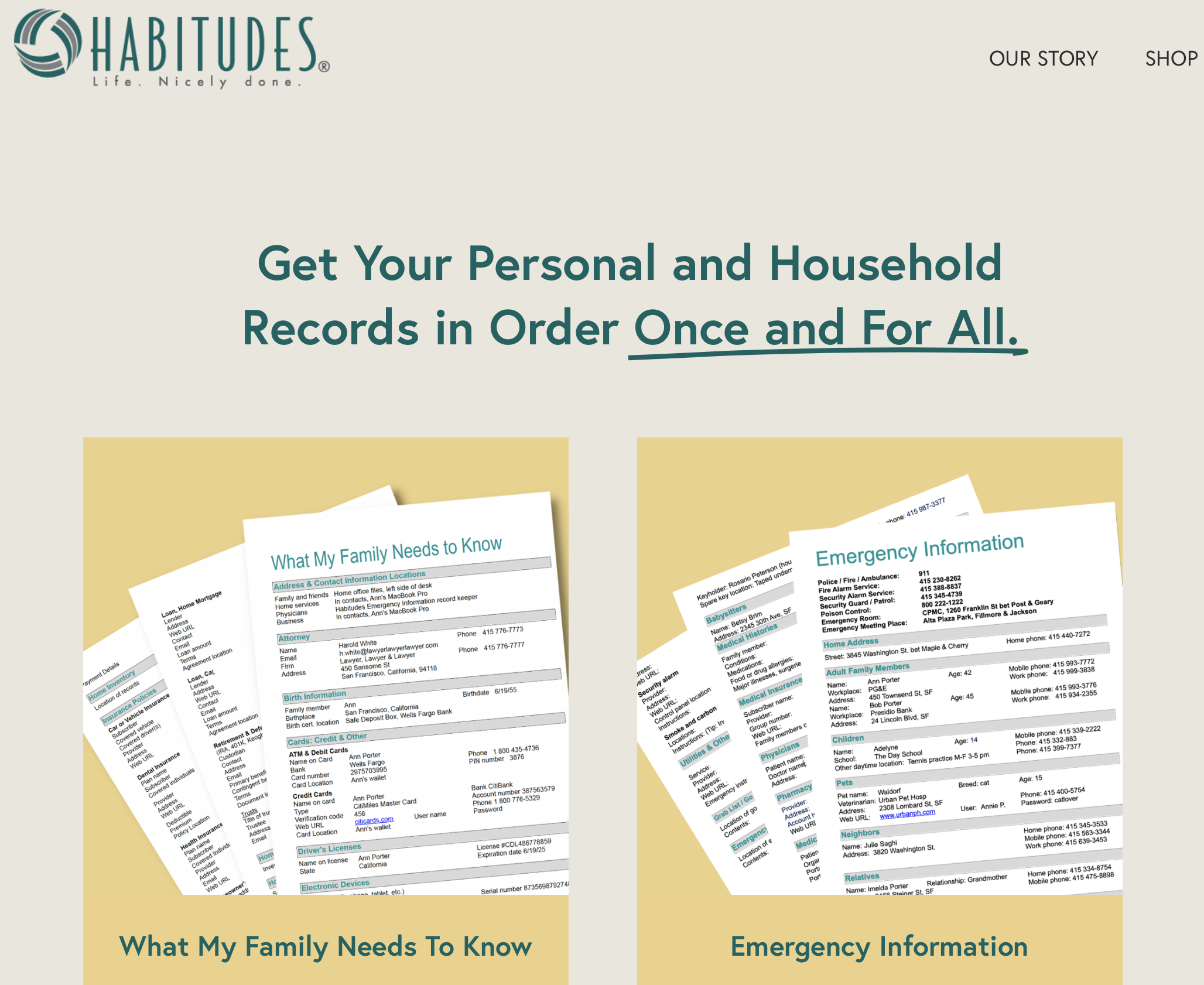 I'm absolutely thrilled to introduce Habitudes, our new personal records website. Starting with What My Family Should Know and Emergency Information, our mission is to offer the most useful personal record keeping documents on the web. Some of you may remember our original website, with earlier versions of our record keepers. Due to insurmountable technical problems we shut down the site a year ago, determined to create a more user-friendly system for keeping household records. This time we think we got it right.
What Makes Habitudes Personal Record Keepers Unique
Of course, you could type up personal records yourself, hire an assistant at $20-$60 per hour, buy or subscribe to record keeping software or download other forms. And you can always look for other record keepers. But why waste your time? Few, if any, offer all of these advantages:
Download today
Easy to use with popular word processors
No tricky tech to learn
Customizable
Printable
Shareable
Comprehensive
Compatible with your devices
Attachment friendly
No subscription needed
What My Family Needs to Know Keeps Vital Info in One Place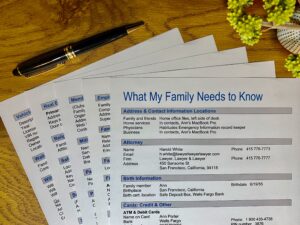 What My Family Needs to Know isn't just for the executor of your estate. Running a household, whether it's just you or a family of five, is complicated.
You need to share information. And if you or your partner travels a lot, has an extended hospital stay, or suffers a temporary or permanent disability, the information in What My Family Needs to Know will prove invaluable.
What My Family Needs to Know is a whopping 17 pages long when downloaded. But don't let that intimidate you. The reason it's so long is we've thought of almost everything any family needs to know. Because our record keepers are word processor based, you can delete sections that don't apply to you. Don't have a pet, an off-site storage facility or a second home? Delete. Delete. Delete. And in case your dream vacation home at the lake becomes a reality, you can always add it later. Learn More.
Emergency Information Keeps Contacts and Plans at Hand
Stuff happens. If you need to call an ambulance could you tell paramedics your family member's conditions and prescription medications? Does the babysitter know where the nearest emergency room is? If a pipe breaks in your home does the house sitter have the number for the 24-hour emergency plumbing service? In case of disaster does everyone know where to find your emergency supply bin, what's in it and where to find it? They will if you keep Emergency Information handy. Learn More.
Find More Links You Can Really Use at HabiLinks Guide
The internet is full of great resources, but page after page of search results can be too much of a good thing! We search for useful information in eighteen lifestyle categories, so you don't have to. When we find the link with the most useful content it becomes a HabiLink, one of the chosen few! Unlike other web guides or review sites, we don't accept payment for listings. We simply think they're the best at what they do. You'll find more helpful household organizing information in the Emergency Preparedness and Home Office & Productivity categories at HabiLinks, our web guide. When you're looking for tips on what your family needs to know, you can depend on HabiLinks for links you can really use.