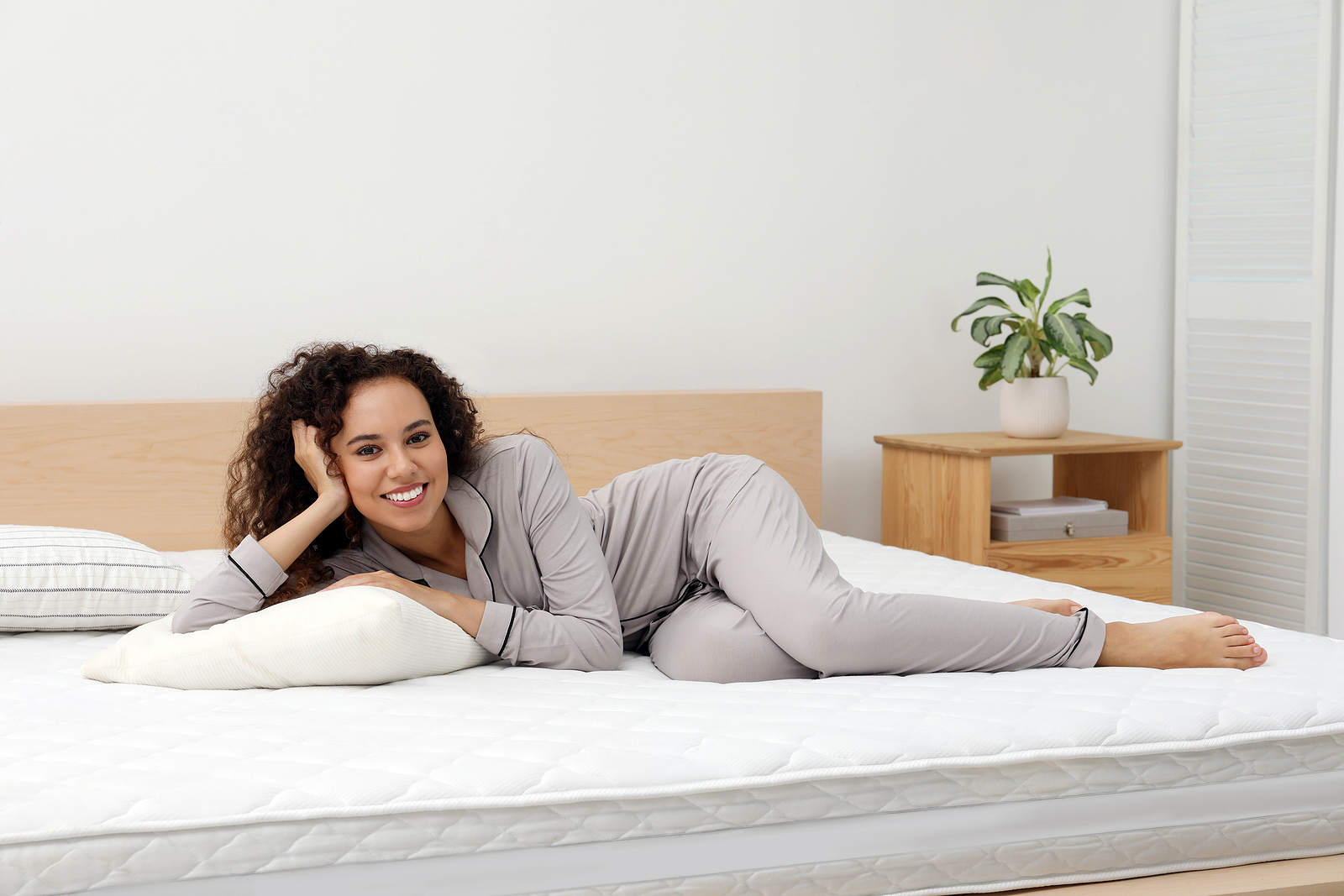 Wondering how to choose the right mattress? Choosing a mattress is a big deal. Mattresses range in price from a few hundred to thousands of dollars. And choosing the wrong one will be a mistake you'll live with for years. Recently, after seeing an ad for a "sale," I decided to get a new mattress for my guest room. I did some sleuthing and found what looked like a good deal. Then I read my notes from the last time I bought a mattress…seven years ago. There's a lot to learn. I hope these notes help you as much as they helped me.
How to Choose the Right Mattress
My first try at buying a mattress didn't go so well. I ordered a premium brand mattress online. When it arrived, I was so disappointed. I tried to sit on the edge of the bed. It was so soft I slid off. And the mattress was so deep my feet didn't reach the floor. Returning it was a hassle. And since they had taken my old mattress, I had to sleep in the guest room until I bought a new one. For help choosing the right mattress, see How To Choose a Mattress by Consumer Reports. It will tell you everything you need to know about mattresses and how to choose the right one.
What to Know before Shopping for a Mattress
Do your homework. Check mattress types, brands and prices online before venturing into a store.
Order online only if you're able to try the mattress at a retail location.
Decide how much you're willing to pay. Mattress stores often advertise "big sales" on holidays like Labor Day.  When you get to the store sale prices may apply only to a few unfamiliar brands.
If you have a frame and a standard size mattress, you don't need to buy a new frame.
Know whether the family member who will use the mattress sleeps on their side, stomach or back. It makes a difference in the firmness of the mattress.
Measure the depth of your existing mattress. If you have fitted sheets you may want the same depth mattress.
If you store things under your bed, measure how much space you need between the floor and the bottom of the frame.
Bring a measuring tape to the store.
Tips for Your Trip to the Mattress Store
Know your budget.
When you find a mattress you like, negotiate. Ask for a senior discount, cash discount, or low price guarantee. Mattress sales people may offer up to a 30% discount.
Be willing to walk away, go home and comparison shop. You can always go back the next day if you don't find a better deal.
Check to see if the price includes delivery, set up, and disposal of packing materials as well as your old mattress.
If you like to sit on the edge of the bed, make sure the mattress has edge support and isn't so deep your feet don't reach the floor.
Try lifting the mattress to make sure it's not too heavy to tuck in the sheets.
Look for instructions. Does the mattress need to be flipped or rotated? How often?
Ask about the return policy and warranty.  With good care, mattresses last 7-10 years.
Try to resist add-ons like toppers, mattress protectors, sheet sets and pillows. You can probably get them for less online.
If you intend to store things under the bed, make sure there's enough space between the floor and the bottom of the frame.
What to Do on Delivery Day
Check the top, bottom and sides of the mattress for defects.
Give the delivery people a nice tip.  How would you like to deliver mattresses all day?
Make the bed and look forward to a great night's sleep!
Find More Links You Can Really Use at HabiLinks Guide
The internet is full of great resources, but page after page of search results can be too much of a good thing. We search for useful information in eighteen lifestyle categories, so you don't have to. Only then, when we find the link with the most useful content, does it become a HabiLink, one of the chosen few. And unlike other guides, we don't accept payment for listings. We simply think they're the best at what they do. When you're looking for information like how to choose the right mattress, you can depend on HabiLinks for links you can really use.
Get Your Personal and Household Records in Order
Make sure the family knows where to find vital personal and household information. Download What My Family Needs to Know and Emergency Information record keepers from Habitudes, our sister site.  You'll feel so good knowing everything's in place.